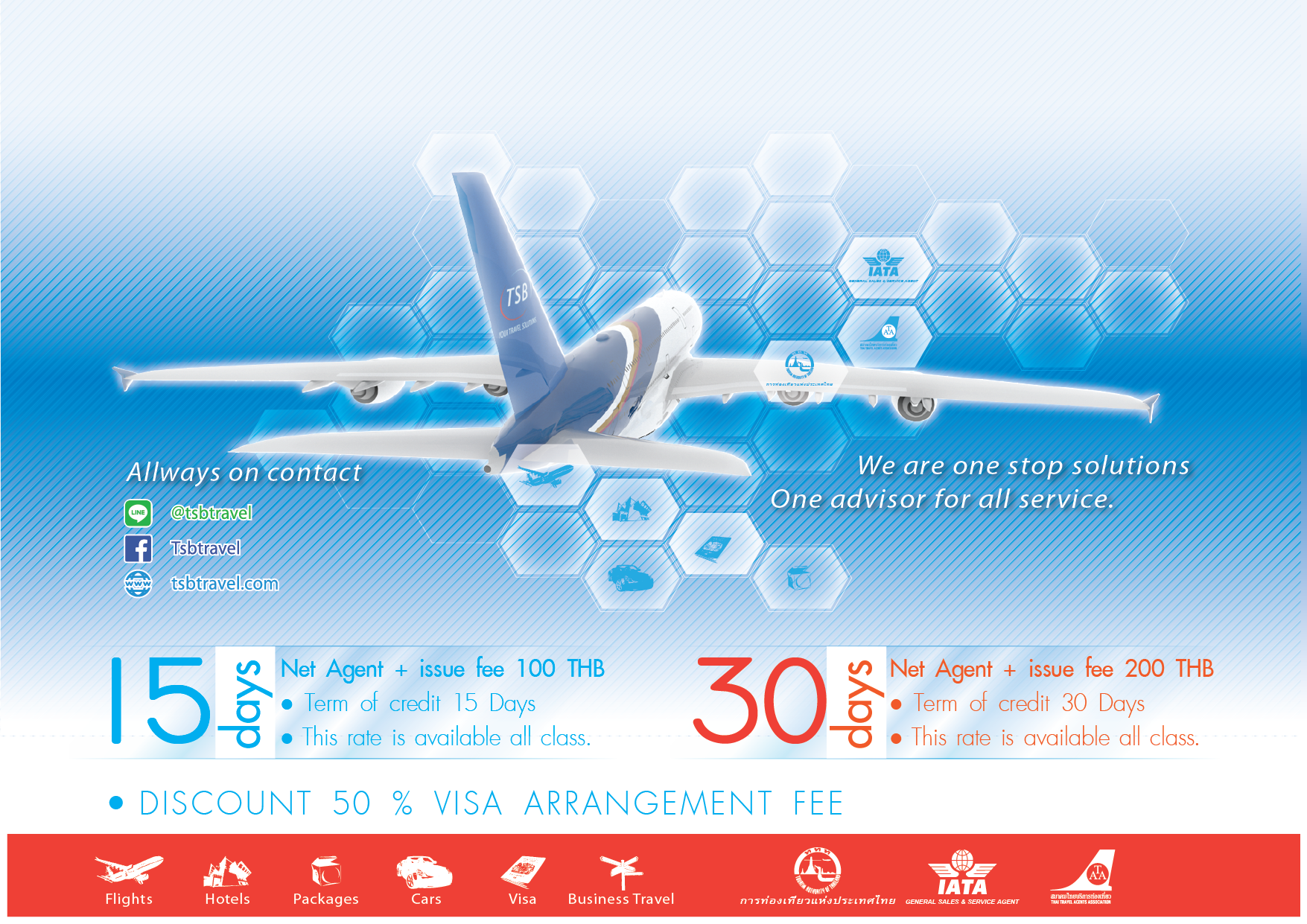 TS Boarding house co.,ltd.
Anniversary 15 year
TS BOARDING HOUSE CO., LTD. (TSB) is an integrated Travel Agency that is certified by The Tourism Authority of Thailand (TAT) with working license no. 11/05016. TSB is certified by International Air Transport Association (IATA) and TAT to distribute airline tickets. TSB has been incorporated in 2002 with the goal of becoming customer centric, international and domestic business and leisure travel Services Company. From day one, our goal is to focus on providing products and services to meet the needs of our customers. We constantly strive to improve our organization with new technologies, processes, and training to better serve our customers and to save our customers time and money.
Flights
Your One-Stop Service for airline reservation and booking. Our knowledgeable consultants have many years of experience and can help arrange your next trip. As a member of IATA, TSB have access to more than 30,000 routing worldwide with the best airlines in the world.
Cars
We have pickup services from the airport to you hotel or from hotel to the airport. We offer daily and hourly limousine service for business and leisure traveler. We also offer car rental service through major car rental companies like Hertz, Avis, and Budget.
Visa
If you have questions about visas, please contact our knowledgeable consultants. Our service is fast and reliable. Many visas that might otherwise take weeks or months to obtain by direct correspondence can readily be processed within days because of our frequent contact with embassies and consulate.
Hotel
Contact our knowledgeable, friendly travel consultants and let them arrange your reservation to domestic and international hotels.
Packages
Your time is important and we can help expedite your travel arrangements with visa services, accommodations services, car rental services, etc. to help you make the most of your time.
VIP Services
We treat you like a VIP. Passing through airport immigrations, and customs does not have to be a hassle. VIP Service is designed to minimize the hassles and enable you to pass through the airport as quickly and effortlessly as possible.
TRAVEL SOLUTION BUSINESS
for Business- It is our pride to provide the business traveler an array of travel related services for both individual and group travel, including group tours, seminars, and business trip for inbound and outbound destinations. We are your business travel solution provider.
GET EASY
easy contact 24 Hours.
easy pay credit 30 - 60 days
easy work confirm reservation within 30 minute
easy profile with passenger CRM
GET FREE
free VISA arrangement
free Airline Timetable.
free coupon promotions
free Air Transport Training
GET REBATE
Annual Rebate for
Order 3 - 5 Millions get rebate 0.75 %
Order 5 - 7 Millions get rebate 1.00 %
Order 7 - 10 Millions get rebate 1.5 %
CUSTOMER CARE
We are here to serve you. We can help you plan your next trip. We can help with your visas. We can help with your airline, hotel, and transportation needs. We can make your time through the airport easier. We can help arrange your business, or group trip. When it comes to travel related services, we are your one stop solution provider. Come and let us take care of you.
CUSTOMER SATISFACTION
Everyone at TSB strive to improve our products and services, so that we can server you better. To make us serve you better, we need to listen to our customer, you. We welcome your thoughts, comments, and suggestions. We take all comments and suggestions seriously. Please send your thoughts, comments, and suggestions to info@tsbtravel.com
PAYMENT CONDITIONS
There are several ways to make your payment, please be aware that all orders must be prepaid except for user with credit.
CREDIT CARD
You can pay your order by credit card. Choose the type of card that you have. Fill in your credit card number, the date the card is expired and the invoice number of your order
BANK ACCOUNT
You can pay in to bank account or transfer from host banking to our account. We have 4 accounts in the name of TS BOARDING HOUSE Co., Ltd. (ทีเอส บรอดดิ้ง เฮ้าส์)
TSB OFFICE
653/8 Soi RamKhamHeang 39,
Ramkhamheang Rd.
Wangthonglang Bangkok 10310
Thailand. Tel:+66 2 538 2008
OFFICE HOURS
Monday-Friday    8.30 AM. – 5.30 PM.
Saturday              9.30 AM. – 3.00 PM.